Do you want more than just a basic slideshow? Many of our clients love the basic slideshows that we traditionally produce but some clients want a little bit more. For these clients we have created our Gold Slideshow package. It includes: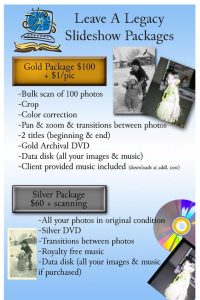 Bulk scan of up to 100 photos
Cropping your photos to remove unwanted white borders, unwanted background or unwanted people
Color correction (using our actual eyes! to make your photo have the most correct color that pleases the eye)
Pan & Zoom on each photo (zoom in on the subject or pan out to see the whole scene)
2 Titles (beginning and the end)
Archival Gold DVD upgrade (to make your disk last)
Data disk (all of your images & music to use on your computer)
Client provided music added to the slideshow (downloads have an additional cost)
All of the above is at least a $500 value. It costs you just $100 + $1/pic. Extra copies are quite inexpensive.