Good day to everyone!
Let's begin with the Leave A Legacy fact of the week:
James Clerk Maxwell, a Scottish physicist, created the first color photograph in 1861. He photographed a tartan ribbon three times, using a red, blue and yellow filter, and combined the three images into the final color composite.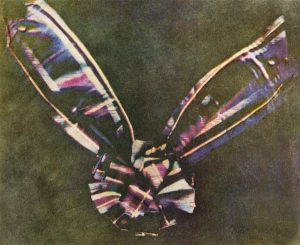 There it is, the first color photograph, ever!
So, did you find that old media, yet? Have you opened up that old cardboard box hidden in the back of the attic. Well? What are waiting for! It's not gonna bring itself into Leave A Legacy and restore itself! We are here to help you in all of your memory needs! All you have to do is stop by with your old media!
If you don't know already, we are currently running the Fall Film Fest Special for all 8mm and 16mm sized film! Please visit our website or stop by a store for more details!
One of our most favorite things is not necessarily the media itself, but, the stories about what's on the media. It's really quite amazing how just taking a quick glance at a photograph can bring back wonderful memories at the time that it was taken. Growing up, my mother had put together these four photo albums filled with years of memories of when my sister and I were kids. It was filled with Christmas pictures, Halloween pictures, Birthdays, vacations, and photos of my grandparents. I always love to go back and look at them and remember those wonderful times.
These days, it can be very difficult and time consuming to put something like that together. You probably have a huge box filled with photos that are out-of-order and not dated. Leave A Legacy can help you piece them all back together! You can sit down with our Project Specialists and dig through that old box. We will help you re-order your photographs and create something that you can look back at for years to come.
We do everything from Photobooks, Slideshows, VHS to DVDs, individual digital prints, and plenty more! It's time to stop putting off that huge family project and head on in to Leave A Legacy!
I would like to end this Blog with a joke:
"A group of artists are invited for dinner by a famous chef.
In greeting the photographer, the chef comments:
I love your photos, they're wonderful, you must have a very expensive camera.The photographer doesn't reply and walks into the dining room.
After dinner the photographer approaches the chef and says:
Dinner was sensational, very exquisite flavors, a true work of art,
you must have a very sophisticated stove."
As always, we here at Leave A Legacy thank you for reading our blog, please feel free to make any comments below. We would love to here your feedback!
Have a great weekend and a wonderful week!
Leave A Legacy