Whew do the month's pass quickly while staying busy with all the projects coming in. I think more than one of you has been cleaning out their storage areas!
We are now open regular store hours in Fort Collins Mon-Fri 9-5 and Sat 10-2. See more particulars on this covid response page especially if you want a no contact option. We are going to refocus our efforts on clients in Northern Colorado, the Denver Metro area, and increasing our market share of national clients who ship their projects. We have gotten an increasing amount of projects shipped to us from across the country as of late.
Distant clients primarily come to us because of our unique transfer equipment, because they confuse us with Legacy Box and because of our informative website that gives them confidence that their memories are expertly and professionally handled. Denver clients may choose to still drop off at Frame de Art in Englewood or can ship to us up in Fort Collins.
Now for some of those interesting projects that have kept us busy.

Heidi had us restore this fun photo that her family had made while visiting the museums in Washington, D.C. On their visit they had the faces of her family (father and son included as the 1st and 3rd people) inserted as the faces in this iconic photo. We restored this fun photo from the museum and reprinted it to its former glory.
We created a photo book for a client's son's 50 year old birthday. It had photos from birth to current day. I was given the photos as digital files but the order was all scrambled. I got his photographic life in order while laying out the book for her. We printed and bound it for her in time to give it to him for his birthday.
We transferred old movie films for a 100 year old client, Charlie, with a spicy personality.
We scanned in a collection of photos for Roberta of her parents while they were in New York. Her father was a photography student at the time so had some very artistic images.
We created a memorial slideshow and program for an older gentleman who passed just before the pandemic but is having their service outside of the church in Red Feather but they won't allow singing.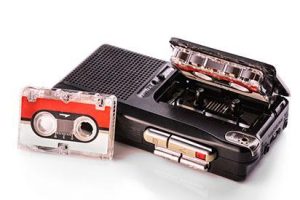 We transferred an answering machine audio micro-cassette containing the priceless voice of a relative for a client from British Columbia, Canada.
We transferred video for someone in Washington,
films for someone from Kansas, made disc copies for someone from California and scanned in slides for a man in Georgia.