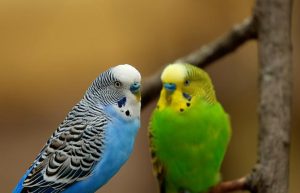 Janet & Bruce brought in an old audio cassette that is a recording of their now deceased bird the beloved Mr. Tweet talking and singing.  He died several years ago and since then the got a new parakeet and named him Blue.  Mr. Tweet was quite a talker while Blue is pretty quiet.  The got out the cassette and played it for Blue and believe it or not Mr. Tweet has taught Blue how to talk.  Blue is sure that Mr. Tweet is the handsome gentleman bird that he sees in his mirror.  Janet and Bruce thought it was time to transfer the cassette to disc before it became unplayable. We are titling the disc "Mr. Tweet's Legacy" for that is what it is.  He can tell his story to generations of birds to come and share his personality, point of view on life and his vocabulary.  What a wonderful, heartwarming Legacy story.
Brenda brought in an audio cassette as well.  This one contained the voices of her two young daughters and a niece.  Many years ago there was a business called "Music, music, music" set up in the mall that was a mini recording studio. You could make a "professional" recording of children or adults singing.  She described that the music was piped in and each of the girls wore some large headphones while singing into the microphone.  They recorded "From A Distance" on one side of the cassette and "Everything I Do…" on the other side.  She brought it in to us so that the now adult girls, and mothers in their own right, could hear their sweet songs of innocence.
Brian brought in some reel-to-reel recordings that his parents made in 1968. They were audio "letters" to each other during the Vietnam War.  He had others that he wasn't sure what was on them.  We will call him once we get them on the player and let him know what they contain.
2016 & 2017 Memories Chronicled. Dusk has brought in all the photos and videos from all of her media sources. This includes both her husband's and her own phone files and a digital video camera.  We are pulling each year's worth of media and putting them in order on DVDs for her to preserve all the memories from.
Whomever's Legacy you want to preserve, know that Leave A Legacy has the creativity, know-how and equipment to accomplish it.