Leave A Legacy has acquired a bunch of new (old) equipment which enables us to transfer even more types of old media. New for us is our own audio wire recorder, Digital S video tapes, Digital Beta CAM video and more.
At Leave A Legacy we work with a huge variety of video and disc types and formats.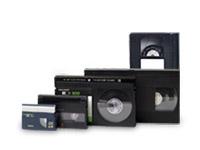 Video Formats that we can play:
NTSC –format used in United States
PAL – format used in Europe (except for France), Australia
M-PAL –format used in Brazil, it will play on NTSC but it would be black and white
N-PAL – format used in Argentina, Paraguay and Uruguay but it should play on PAL and most Secam players
Secam – format used in France
MeSecam – stands for Middle Eastern Secam
Video Types that we can play:
Types of Discs we can access:
Bring it in or ship it to us and we will transfer it to DVD, digital files and do whatever edits you would like.
Leave A Legacy is here to help you preserve and share your memories.