Welcome 2020. What a crazy Holiday season we had. We were busier than ever (see some stats below). Here are some highlights of what other people were giving as far as family memories go.
D
onna brought in a collection of old damaged photos that she is using to build a family genealogy chart. We are restoring the photos and cropping them down to a wallet size of just their head and shoulders. This photo is of her great grandmother with her grandfather behind in curls. For the chart she needed her grandfather removed from the image.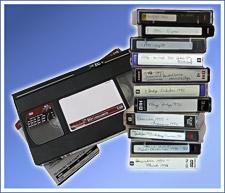 About 10 days before Christmas, we had the Larsen family from Arkansas ship us their collection of over 100 family videos to have them converted to digital in time for Christmas. We kept the midnight oil burning and got it all finished and saved to 5 external hard drives all in time to ship it back to them with 2 day delivery. One copy had to be shipped to their daughter who wouldn't be able to make it home for Christmas because she had to deliver her baby early….just days before Christmas.
Heidi, from Louisiana, had us transfer an 8 track tapes to mp3 files. It contained the voice of her husband's first wife and her playing the piano. She had passed when she was the mother of two young children. The children are now in their 30s and the new wife of their father was anxious to be able to share the sound of her voice with them who had no memory of it. It is an honor to be able to transfer these priceless memories.
Terry always has something interesting for us to work on. This season he brought in a recording of his wedding on a record and a recording of him singing as part of the University of Nebraska Symphony. The Choir recording was shared with Terry by his grandson's band teacher who had been playing in the band at the same school during the same year. We transferred the records to playable CDs for him.
Wendy brought in some slides from the 1976 Montreal XXI Olympics to be made into digital files. Check out the aerial view of the stadium, the clothes people were wearing and the opening ceremony. Check out the photos in the left column.

The Fort Collins Museum of Discovery brought in over 400 cassette containing historical interview for us to transfer to digital for them to be able to share with the public. Attached is a small segment of interviewer Charlene Tresner speaking with the Chappell family one month after the Big Thompson flood in 1976 that killed at least 140 people and destroyed 418 homes.


Jim brought in some negatives of family photos that he got from a collection at the Lincoln County Museum. He had us scan the negatives and make them into positive digital files for him. Read the interesting story about how the photo collection came to be at the Museum and how they could have photos of your family as well.
Stats for December 2019
We transferred 28,000 feet of movie film, 900 hours of videos, 3000 slides and created 53 books. Its no wonder we felt extra pressure this year as we did 18% more work than December of 2018.
We've started out 2020 with a bang…piles of new projects coming in. So bring it on…In with the Old…and Out with the New!